Book Launch - Homegrown: ISIS in America
Thu, 12 November, 2020
12:00pm - 1:30pm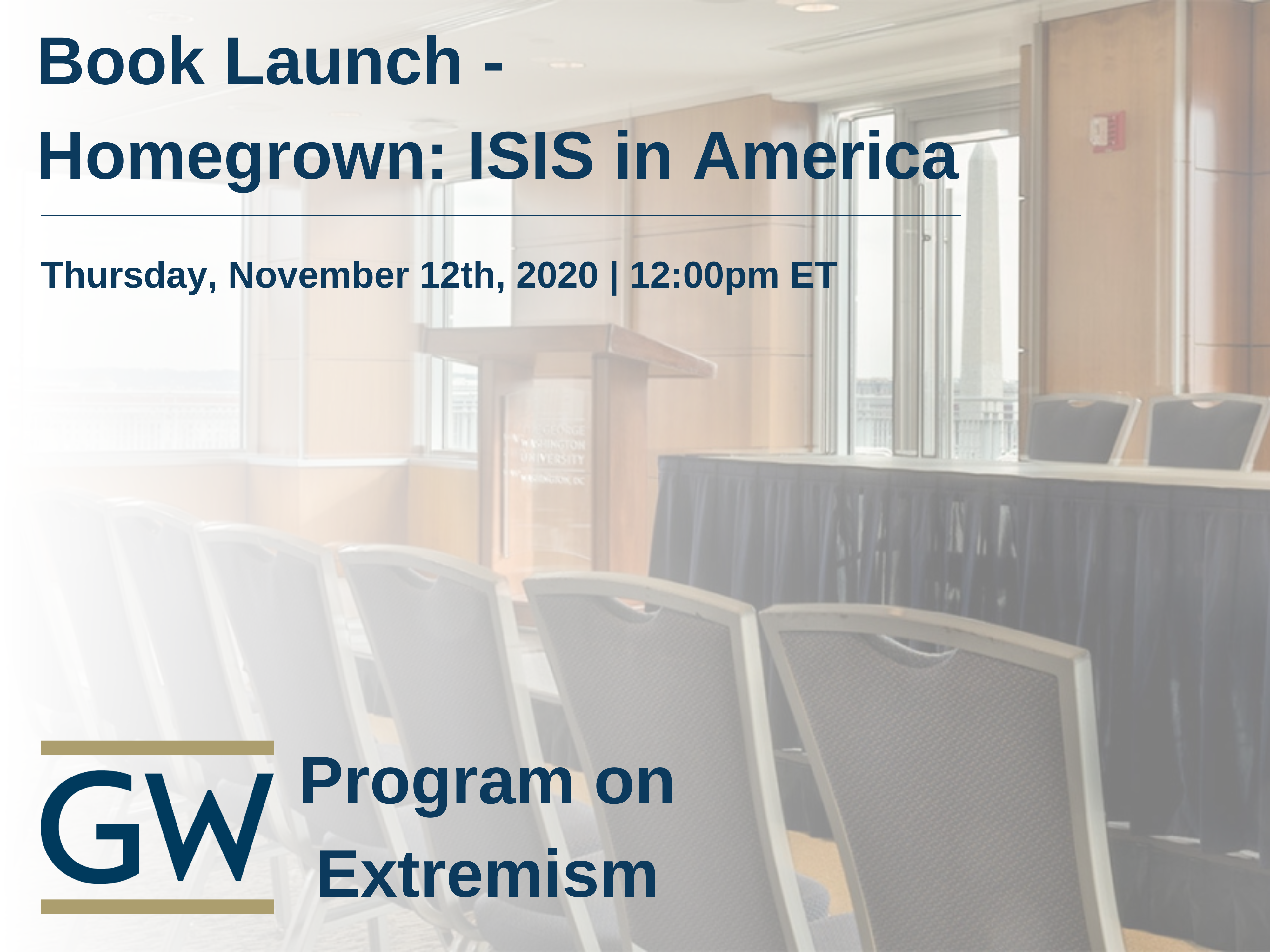 ---
Summary
On Thursday, November 12, 2020, the Program on Extremism (PoE) at The George Washington University celebrated the release of Homegrown: ISIS in America, authored by PoE staff members Alexander Meleagrou-Hitchens, Seamus Hughes, and Bennett Clifford.
Homegrown: ISIS in America analyzes American supporters of the Islamic State in Iraq and Syria (ISIS). Between 2014 and 2019, the United States witnessed an unprecedented scale of American involvement in jihadist activity, mostly due to the influence and efforts of ISIS to recruit Americans. While dozens of American ISIS supporters plotted attacks in the homeland, hundreds more traveled abroad to join the group's so-called caliphate. Meanwhile, ideologues past and present provided the ideological narrative to support the group's goals and methods, and online activists  used new advances in online communications and social media platforms to spread ISIS' message and incite violence. Homegrown addresses each of these dynamics and more. The authors draw on first-hand interviews with former American Islamic State members and law enforcement officials, Islamic State supporters' social media activity, and court case records of those who faced the American justice system.   
Following remarks from the author, a panel discussion was moderated by Mary McCord, Former Acting Assistant Attorney General for National Security at the U.S. Department of Justice and Legal Director at Georgetown University's Institute for Constitutional Advocacy and Protection.
Selected endorsements for the book:
"Homegrown is the most detailed examination and analysis of that terrorist organization's radicalization and recruitment efforts in the U.S. It thus fills a conspicuous gap in the literature and sheds important light on terrorist exploitation of digital media to build local attack networks and encourage violence far from the geographical locus of their ongoing conflicts in the Middle East, Africa, and Asia." -Professor Bruce Hoffman, Georgetown University and author of Inside Terrorism
"Probing the ISIS threat within the United States, the authors tap primary sources such as social media data, analysis of court cases, and personal interviews with inspired individuals. Theories abound as to what drives US-based terrorist attacks and how to counter them. This fine book offers original evidence. Highly recommended." -Professor Audrey Kurth Cronin, Director, Center for Security, Innovation, and New Technology, American University
"Homegrown combines history, social science, and old-fashioned gumshoe research to provide the clearest, most comprehensive picture of the American wing of a terror movement like no other." -Graeme Wood, author of The Way of the Strangers: Encounters with the Islamic State
---