Congressional Brief: Preventing terrorism in the U.S., successes, failures, and recommendations
Tue, 9 October, 2018
4:00pm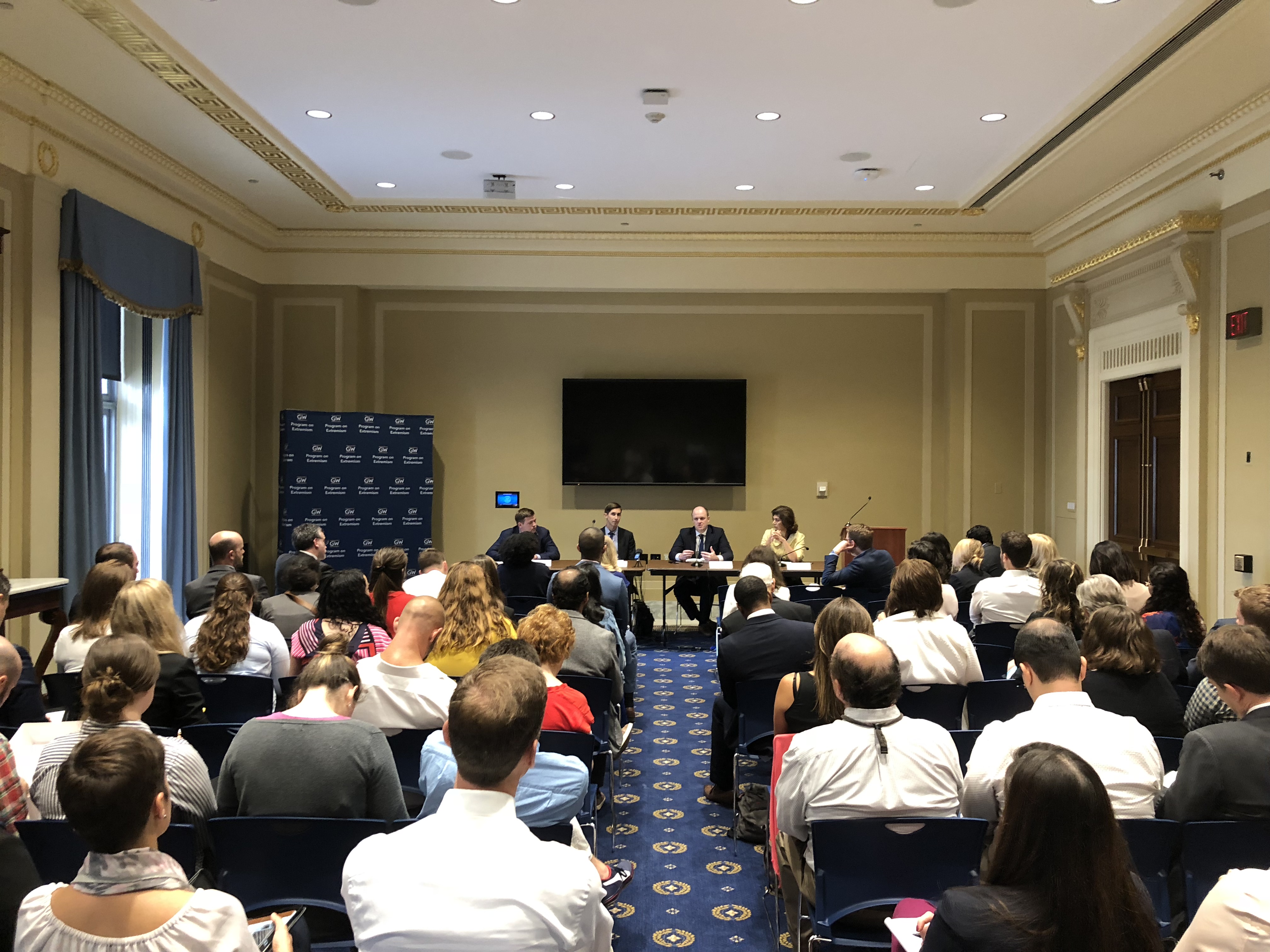 ---
Summary
On October 9, 2018, the Program on Extremism partnered with the Brookings Institution and the Institute for Strategic Dialogue to co-host an expert panel on terrorism prevention for the Congressional Counterterrorism Caucus. Attended by over a hundred guests, the panel featured the Deputy Director of the Program on Extremism, Seamus Hughes, the Head of Strategy at the Institute for Strategic Dialogue, Farah Pandith, the Program Coordinator of Parents for Peace, David Phillippi, and Foreign Policy Fellow at the Brookings Institution, Chris Meserole.
The panelists drew on their various areas of practitioner experience and subject matter expertise to dissect the history of countering violent extremism (CVE) in the United States and 'lessons' for improving strategic-policy outcomes. The expert panel also reflected on the recent National Counterterrorism Strategy which identified a greater focus on civil society responsibility, scaling-up cooperation with technology companies, and targeting terrorist ideologies as key features of the Trump administration's approach to terrorism prevention.
Key takeaways from the panel discussion include:
Seamus Hughes analyzed the recent history of terrorism prevention in the United States with a focus on how perceptions of CVE changed over time and the implications of the current administration's National Counterterrorism Strategy.
Chris Meserole highlighted how large technology companies are addressing extremist content and the importance of working with smaller, less prominent social media platforms to comprehensively combat their exploitation by terrorist networks.
David Phillippi discussed the role of civil society in countering radicalization by reflecting on the experiences of Parents for Peace in its grassroots efforts to assist communities in identifying and confronting radicalization of all types.
Farah Pandith spoke about the government's role as a convener and facilitator for terrorism prevention, as well as the importance of appropriately funding and encouraging NGO work on the ground.
The Program on Extremism continues to support the Congressional Counterterrorism Caucus in its development of a bipartisan strategic-policy framework for preventing terrorism in the United States. The Congressional Counterterrorism Caucus' report will be released December 10, 2018 at an event to be hosted by the Program on Extremism.