A Book Talk With Farah Pandith
How We Win: How Cutting-Edge Entrepreneurs, Political Visionaries, Enlightened Business Leaders, and Social Media Mavens Can Defeat the Extremist Threat
Thu, 21 March, 2019
5:00pm - 6:30pm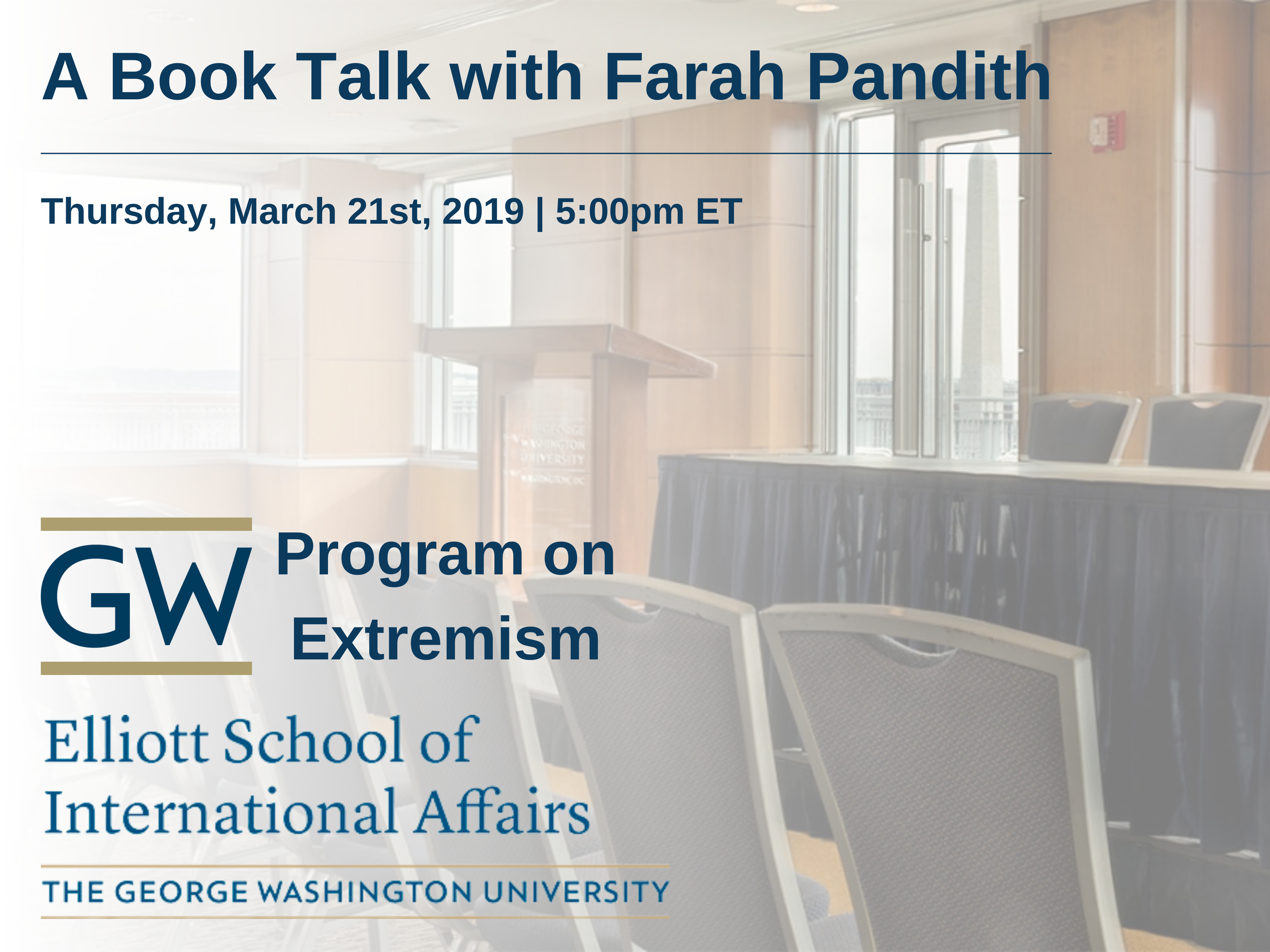 ---
Summary
On March 21, 2019, The Elliott School of International Affairs at the George Washington University, in conjunction with the Program on Extremism, hosted Farah Pandith to discuss her new book How We Win: How Cutting-Edge Entrepreneurs, Political Visionaries, Enlightened Business Leaders, and Social Media Mavens Can Defeat the Extremist Threat. Drawing upon her experiences at the National Security Council, U.S. Department of State, and USAID, Farah Pandith's book provides a strategy to combat terrorist recruitment and radicalization with a focus on defeating ideology and engaging a spectrum of stakeholders.
After introductory remarks by Seamus Hughes, the Program's Deputy Director, Ms. Pandith spoke on the need for a paradigm shift in our approach to combat extremism. She discussed the need for the government, civil society, and the private sector to collaborate and work together to address the ideological underpinnings of radicalization. Following a moderated discussion with Mr. Hughes, the event concluded with a brief Q&A session with the audience.
Farah Pandith previously served as a political appointee under Presidents George H.W. Bush, George W. Bush, and Barack Obama. She was the first-ever Special Representative to Muslim Communities, serving both Secretaries of State Hillary Clinton and John Kerry. She has served on the National Security Council, at the U.S. Department of State, and the U.S. Agency for International Development (USAID) in various senior roles. She is currently a senior fellow with the Future of Diplomacy Project at the Belfer Center for Science and International Affairs at the Harvard Kennedy School as well as an adjunct senior fellow at the Council on Foreign Relations.