Launch of the Congressional Counter-Terrorism Caucus
Thu, 14 June, 2018
12:00pm - 1:30pm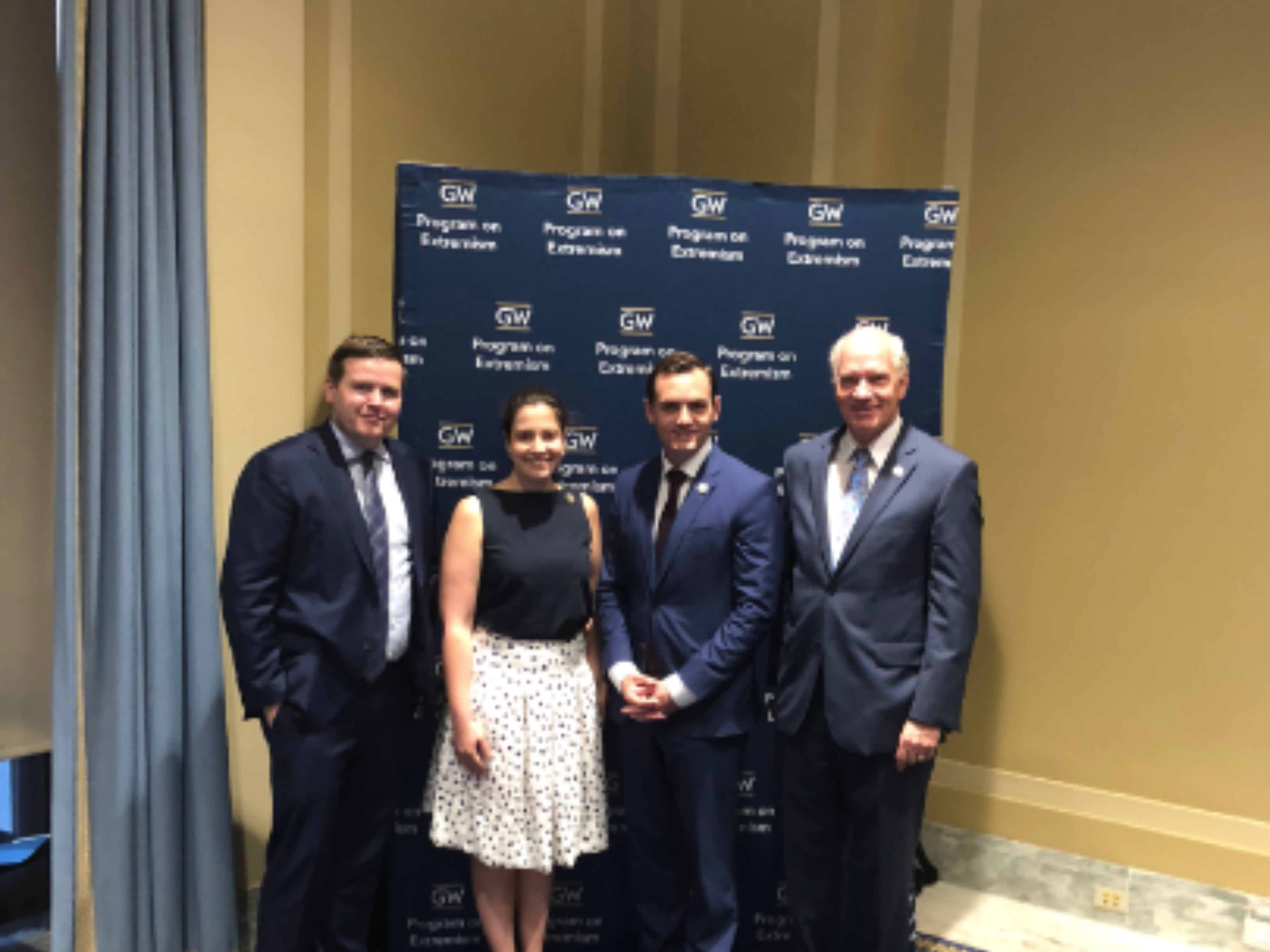 ---
Summary
On June 14th, 2018, the Congressional Counter-Terrorism Caucus launched with the help of George Washington University's Program on Extremism and its four co-chairs: Republicans Mike Gallagher and Elise Stefanik, and Democrats Kathleen Rice and Bill Keating. The Caucus serves as the leading bipartisan voice in Congress for pragmatic approaches to tackling extremism and radicalization. It meets regularly with the goal of developing and adopting a bipartisan framework to counter domestic terrorism and draws upon expertise from across the government, public policy institutions, and community organizations.
Following introductory remarks from the Program on Extremism's Deputy Director Seamus Hughes, Congressman Mike Gallagher took the podium, remarking that "my hope is that this caucus begins to carve out a bipartisan, thoughtful, forward-leaning space where we can have this discussion and come up with new and innovative ideas. That's why I'm so excited to work with my colleagues who volunteered to be part of this." Mr. Gallagher spoke about extremism in today's digital world, adding that "we're having this brutal debate about border security in our country right now and it sort of ignores the way terrorists cross our borders thousands of times everyday digitally. I'm looking forward to digging into this issue and many others."
Congresswoman Kathleen Rice emphasized in her comments that "the only way we get problems solved is if we have public-private partnerships, and that's what I consider this caucus to be." She continued, "we have all of us here in Congress working with the good people at GW to come up with solutions. I want to thank everyone at GW for joining us in this partnership."
Congresswoman Elise Stefanik explained that "I was a senior in high school when 9/11 happened, and I believe extremism is the most important generational issue of our time," adding that "when it comes to digital recruitment [by extremists], that happens thousands of times each day. The attacks in Boston, San Bernardino, in Orlando, those demonstrate that many of the terrorist self-radicalize by being exposed to this information online. There is an opportunity to partner with Google, with Facebook, with the private sector to really tackle this. This is our generational call. Thank you to GW for being the engine behind starting this Caucus, I couldn't think of a better group of Members to partner with. I'm excited to roll up my sleeves and work with GW and my colleagues in Congress."
"I recall five years ago arriving at Logan Airport [in Boston] for a flight to Washington and getting an alert, phone calls, with the Marathon Bombings news. I decided not to get on my flight, but to remain in Boston and engage as the state's representative on the Homeland Security Committee," Congressman Bill Keating said as he began his remarks explaining why the issue of extremism was so important to him. "It's great to have real bipartisan commitment with this Caucus, and it's important to be partnering with an academic institution with GW. If we are ever going to stop extremism, we have to dig deeper to find out what the root causes are that make people radicalize."