Regional Hotspots and Global Interventions
Thu, 19 September, 2019
2:15pm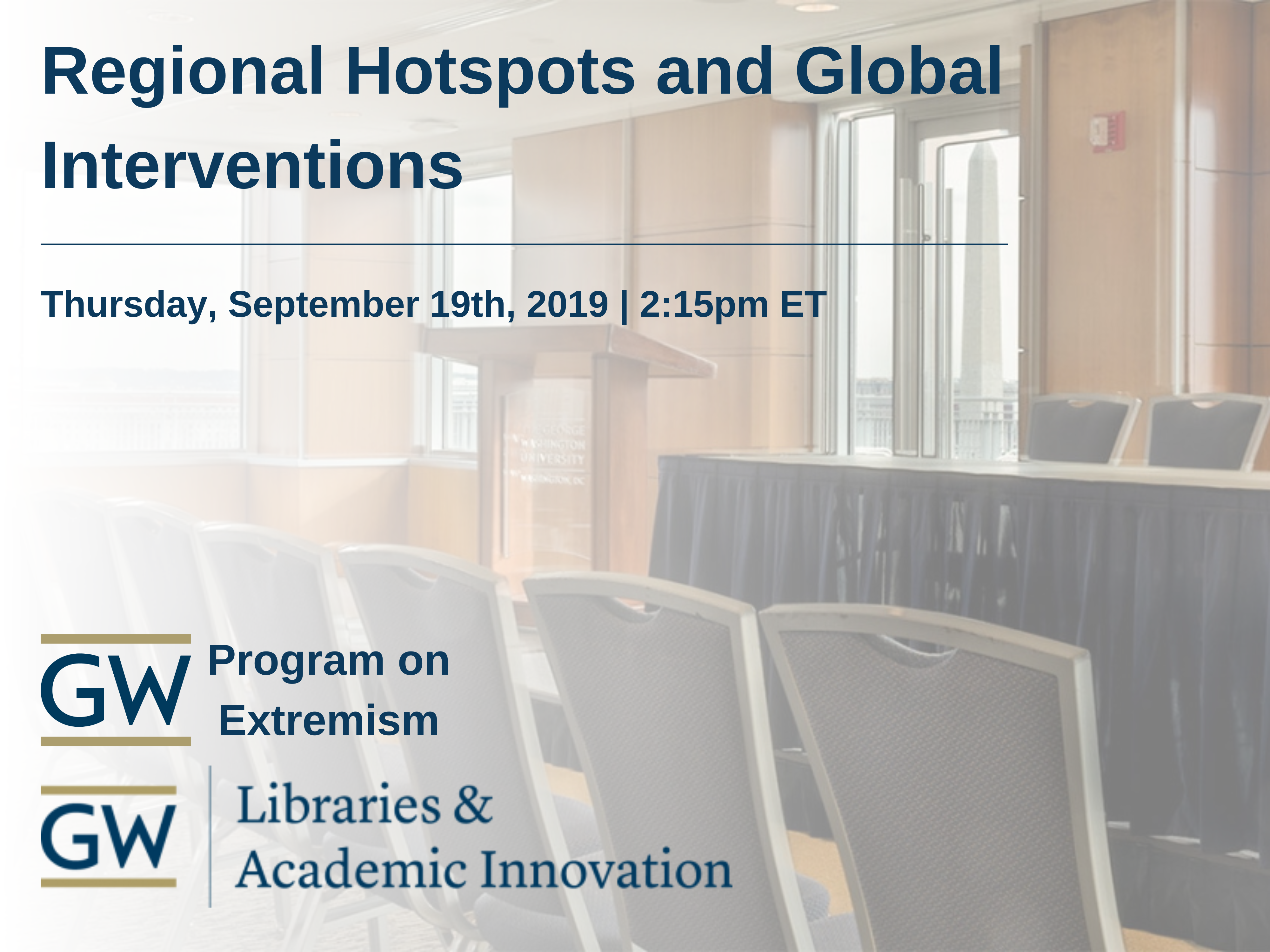 ---
Summary
Regional conflicts in the Middle East and North Africa have demonstrated the longevity and complexity of terrorist operations, as well as the limits and impacts of interventions. Despite the loss of the territorial caliphate, affiliate and splinter groups of both the Islamic State and al-Qaeda remain a potent threat. Initiatives to counter these groups' operations and recruitment efforts vary greatly across different spheres of operations.
On September 19, 2019, the Program on Extremism at The George Washington University, in conjunction with GW Libraries & Academic Innovation and the National Churchill Library and Leadership Center, hosted a panel discussion to discuss these initiatives and trends, featuring five leading scholars of terrorism. These experts, drawing on regional expertise, provided a nuanced and detailed analysis of the security dynamics surrounding domestic and foreign intervention, including aid and development, in the global fight against the Islamic State and jihadi insurgents. 
The panel, moderated by Program on Extremism Senior Research Fellow Dr. Haroro J. Ingram, engaged scholars' ground perspectives on the changing dynamics of jihadi theaters across North Africa, the Middle East, and Southeast Asia, including the evolution of these organizations in the face of a global counter-terrorism campaign. The panel's discussants included:
Jessica Trisko Darden, Assistant Professor at American University's School of International Service and Jeane Kirkpatrick Fellow at the American Enterprise Institute
Nate Rosenblatt, New America International Security Program Fellow, Oxford University doctoral student, and independent Middle East/North Africa (MENA) consultant
Aaron Zelin, Richard Borow Fellow at the Washington Institute for Near East Policy and a visiting research scholar at Brandeis University
Asaad Almohammad, Senior Research Fellow at the Program on Extremism. 
---