A Conversation with Thomas Brzozowski
The Counsel for Domestic Terrorism in the Department of Justice (DOJ)
Tue, 9 January, 2018
3:00pm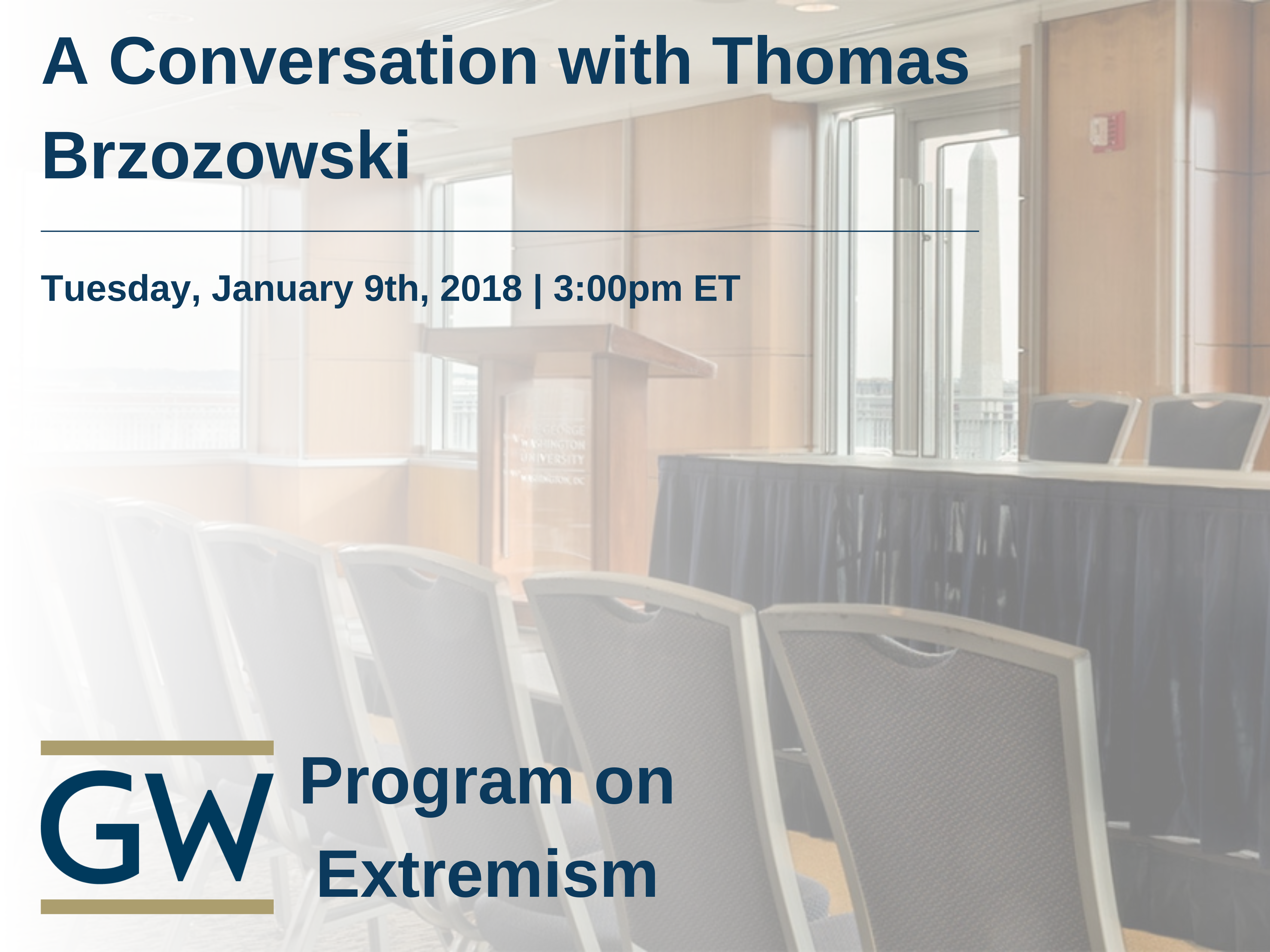 ---
Summary
On January 9, 2018, the Program on Extremism hosted Thomas Brzozowski, Counsel for Domestic Terrorism in the Department of Justice National Security Division (DOJ-NSD), for a discussion of the United States government's current efforts to combat domestic extremist groups (including far-right and left-wing extremists, sovereign citizens, neo-Nazis, and white nationalists).
In a speech delivered at the Program on Extremism in 2015, then-Assistant Attorney General John Carlin announced the creation of the Domestic Terrorism Counsel position within the DOJ-NSD to help coordinate domestic terrorism matters within DOJ nationwide. The Counsel assists in headquarters-level efforts to identify trends, analyze legal gaps, and shape the Department's strategy to respond to the threat. Since that time, the Program on Extremism has annually hosted the Counsel for Domestic Terrorism for a discussion of the DOJ's domestic counterterrorism efforts.
Mr. Brzozowski provided an in-depth overview of the threat from domestic terrorists, highlighting the legal and statutory frameworks currently in place to prosecute terrorism. Using cases from the past ten years, including the 2011 bombing of a Martin Luther King Jr. Day parade in Spokane, Washington; the 2014 shooting at the Overland Park, Kansas Jewish Community Center; and the 2016 shooting at the Emanuel African Methodist Episcopal Church in Charleston, South Carolina; Brzozowski discussed the discrepancies between the options available for prosecuting domestic terrorists and terrorists connected to a foreign organization.
As there is no designated federal terrorism statute for domestic terrorism, Brzozowski argued that prosecuting attorneys must utilize other charges to bring domestic terrorists to justice. The perpetrators of the aforementioned attacks, for instance, were indicted on a mixture of state and federal charges including murder, use of a weapon of mass destruction, and hate crimes. While no specific terrorism or material support charges were brought in these cases, Brzozowski argued that even without a specific domestic terrorism statute, federal prosecutors were able to attain convictions and lengthy prison sentences for domestic terrorists. Overall, Brzozowski stated that the DOJ intends to "leverage every tool" against domestic terrorists available in the statute and that "this notion that domestic terrorists are getting a 'pass'...isn't true."
Following Mr. Brzozowski's remarks, the floor opened to a question and answer session, moderated by PBS NewsHour Foreign Affairs and Defense Producer P.J. Tobia. This discussion covered several recent DOJ activities toward countering domestic terrorist groups, including the investigation into incidents in Charlottesville, Virginia during a rally held by far-right extremists.
---