The Law and Combating Radicalization: Solutions and Limits
Mon, 13 November, 2017
5:00pm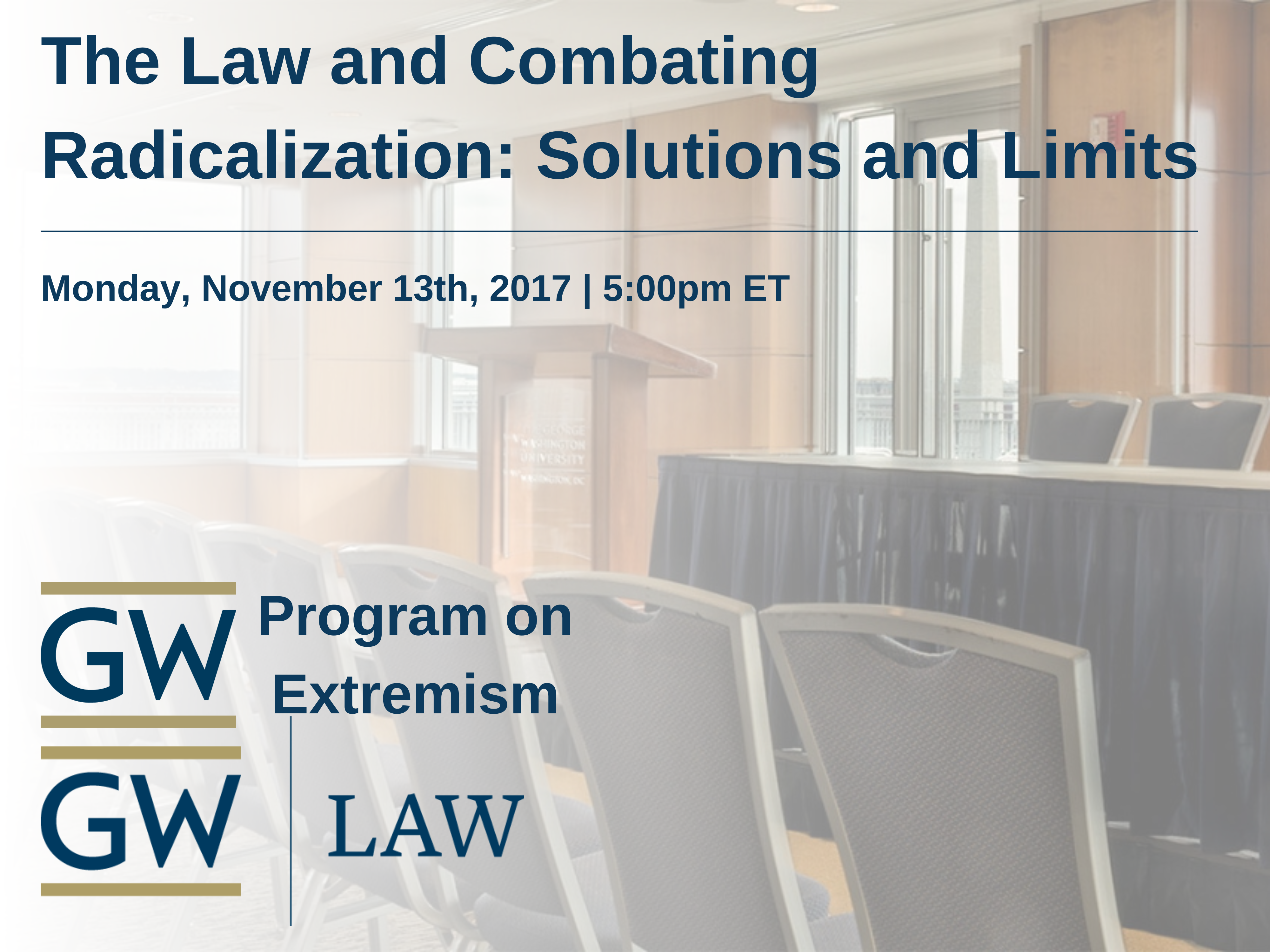 ---
Summary
Preventing and countering violent extremism (P/CVE) is quickly becoming a central component of numerous national counter-terrorism strategies. Despite this, P/CVE is an understudied topic that is often wrought with controversy.  In an effort to help move the discussion forward, the Program on Extremism and GW Law hosted a one-day conference on November 13, 2017, with two panels focusing on two crucial elements of this emerging challenge.
As extremist groups become increasingly adept at using social media and digital communications platforms, governments and technology companies have struggled to devise effective responses.  While several recent initiatives have experienced positive results, there is much more work to be done.   With this in mind, the first panel - "Legislating Extremist Content Online" - addressed recent legislative and other government initiatives in Europe and elsewhere that seek to sanction technology companies who do not remove extremist content from their platforms in a timely fashion.
A second major challenge states face in implementing P/CVE is that, in many cases, potential terrorists do not break the law until carrying out an act of terrorism. The second panel - "The Challenges of Terrorism Prevention Measures" - analyzed which measures states are pursuing in order to stop those who are on the path to violent radicalization from committing a crime. The panel discussed several current efforts in this space, including the UK government's Terrorism Prevention and Investigation Measures (TPIM) and Canada's peace bond approach.
Panel 1: Legislating Extremist Content Online
Dawn Nunziato, William Wallace Kirkpatrick Research Professor at GW Law
Seamus Hughes, Deputy Director of the Program on Extremism
Jason Pielemeier, Policy Director at the Global Network Initiative
Panel 2: The Challenges of Terrorism Prevention Measures
Arturo Carrillo

, Professor of Clinical Law at GW Law

Robin Simcox, Margaret Thatcher Fellow at the Heritage Foundation

Kent Roach, Professor and Prichard Wilson Chair in Law and Public Policy at the University of Toronto