Fernando Reinares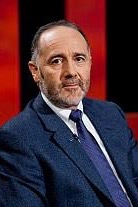 Fernando Reinares
Fellow
Director of the Program on Violent Radicalization and Global Terrorism at Elcano Royal Institute
---
Dr. Fernando Reinares is the Director of the Program on Violent Radicalization and Global Terrorism at Elcano Royal Institute, as well as Professor of Political Science and Security Studies at Universidad Rey Juan Carlos, both in Madrid. He is also an Adjunct Professor at Georgetown University since 2014 and Global Fellow of The Wilson Center, where he was a Public Policy Scholar in 2011.
He is the author of Al Qaeda's Revenge: The 2004 Madrid Train Bombings (New York: Columbia University Press, 2017), praised by The Economist as "an impressive piece of research" and by Foreign Affairs as "a must-read for counterterrorism authorities and concerned citizens alike." He co-edited, with Bruce Hoffman, The Evolution of the Global Terrorism Threat (Nueva York: Columbia University Press, 2014).
He has held positions at, among other institutions, the European University Institute in Florence, Stanford University, St. Antony's College in Oxford, the Universidad de Burgos and American University in Washington, DC. First chairman of the European Commission Expert Group on Violent Radicalization (2007-2009), Professor Reinares served as Senior Advisor on Antiterrorist Policy to Spain's Minister of Interior (2004-2006).
Among many other academic and civilian distinctions, Professor Reinares has received from the Spanish authorities the Cross of Military Merit (2009), the Cross of Police Merit (2012), and the highest personal decoration of the regional Government of his native La Rioja region of Spain for "outstanding contribution to the fight against terrorism and in defense of the principles of democracy" (2016).