Islamic State, al-Qaeda, and the State of Global Jihadist Leadership
Thu, 27 April, 2023
3:00pm - 4:30pm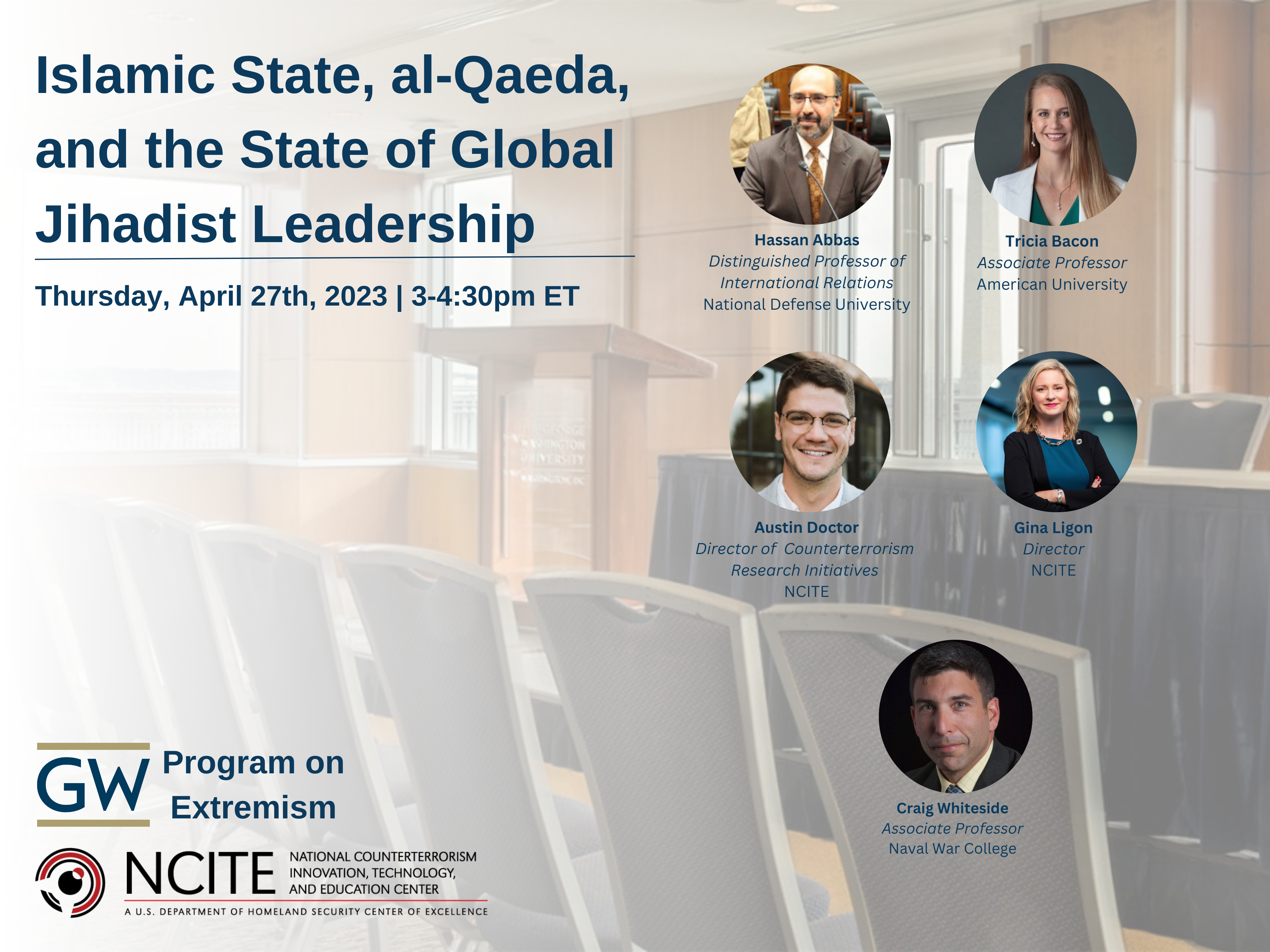 ---
Summary
Over the last few years, intense counterterrorism pressure has delivered substantial leadership losses to the Islamic State, al-Qaeda, and their global networks of affiliates. As groups have grappled with leadership succession and maintaining internal morale and cohesion, they have nonetheless continued to prosecute devastating campaigns of violence in multiple theaters. Even in an era of shifting defense priorities, the threat posed by the global jihadist movement remains. Which groups and leaders are best poised to lead that movement and threaten national and international security remains a debated issue. To discuss these dynamics and more, The Program on Extremism at The George Washington University and the National Counterterrorism Innovation, Technology, and Education (NCITE) Center, a DHS Center of Excellence, jointly hosted a discussion on April 27th, 2023, with top experts, former practitioners, and internationally renowned scholars. This discussion was moderated by NCITE Director, Dr. Gina Ligon, and featured insights from:
Dr. Hassan Abbas, Distinguished Professor of International Relations at the National Defense University
Dr. Austin Doctor, Director of Counterterrorism Research Initiatives at NCITE
Dr. Tricia Bacon, Associate Professor at American University
Dr. Craig Whiteside, Associate Professor at the Naval War College
Dr. Hassan Abbas opened the panel with key insights from his forthcoming book, The Return of the Taliban. He identified two emerging similarities in groups operating in the South Asia region: weak organizational structures, and fewer well-known charismatic leaders. His remarks focused on the leadership dynamics surrounding the Islamic State's regional affiliate (ISIS-K), al-Qaeda, and the Afghan Taliban, as well as Tehrik-i-Taliban Pakistan (TTP), which he argued represents the most dangerous threat in the region today. 
Dr. Tricia Bacon focused on understanding the role of founders and leadership succession in terrorist organizations, featuring key insights from her recent book, Terror in Transition. As Bacon noted, founders focus on establishing the "how" and "why" behind terrorist groups, and successors are forced to make key decisions on how much change should be implemented in the founder's wake. In an era of shifting national security priorities and resources, she forecasts a changing U.S. military posture that is more selective in its application of leadership targeting. 
Dr. Austin Doctor opened with findings from his recent work on militant leadership and lethality, as well as some analytical takeaways from the recent death of Bilal Al-Sudani, a key Islamic State financial facilitator in Africa His remarks focused on the trajectory of al-Qaeda and Islamic State in sub-Saharan Africa and their shifting leadership dynamics in the region. He offered three main points for the audience: (1) Africa has emerged as a critical front in the global jihadist landscape; (2) Local leaders of both al-Qaeda and the Islamic State operate largely independently of their respective organizations' central leadership structures; and (3) Leaders of local al-Qaeda and Islamic State affiliates have tailored their narratives to focus predominantly on the "near enemy," though some will likely maintain the capacity to inspire or conduct attacks on Western communities. 
Dr. Craig Whiteside offered remarks based on his co-authored book, The ISIS Reader. He discussed the remarkable consistency of the Islamic State's leadership doctrine throughout the group's evolution, which has enabled the group to survive and resurge following key periods of operational decline and leadership turnover like it is experiencing today. To conclude, Whiteside pointed to the significant weakening of the central leadership of the Islamic State as impetus for asking three related questions: (1) What is the impact of the recent wave of largely unknown and anonymous central leaders that have very limited engagement with their global network of affiliates; (2) How will the core leadership maintain control over an organization through a sustained down cycle?; and (3) What does the relative decline in operational activity say about the health of the group's leadership?
Following opening remarks, Dr. Gina Ligon asked each of the panelists to identify what are the most concerning characteristics about new leaders in the global jihadist movement. Dr. Abbas highlighted the role of a leader's tribal connections for groups operating in South Asia, as well as the leader's ability to access key resources, charisma, and religious credentials. He noted that a new leader's lack of religious credentials could be a useful starting point for a successful counter-narrative campaign. Dr. Bacon emphasized the importance of identifying potential new leaders and then contextualizing them within the evolving group dynamics. Dr. Doctor pointed to how new leaders' prior military and political experience could be used to forecast their group's level of lethality and willingness to participate in the political process. Dr. Whiteside finished by encouraging the audience to examine the consultative bodies and networks that surround top leaders in order to better understand the interplay between group and leadership dynamics. 
In concluding remarks, Dr. Whiteside reflected on the Islamic State's response to leadership targeting efforts, specifically noting the group's ability to learn how to posthumously transition and protect leaders. He emphasized the importance of understanding that jihadist groups are constantly learning and adapting, and how policymakers can best anticipate jihadist strategic evolution. Dr. Doctor urged policymakers and analysts not to "take our eye off the ball" with the pivot towards strategic competition, and to include local perspectives in leadership analysis focused on forecasting a group's trajectory. Dr. Bacon identified the current period as an inflection point after twenty years of intensive leadership targeting efforts, stating that the next phase must look more closely at the leaders themselves, especially given resource constraints. Finally, Dr. Abbas concluded by acknowledging the challenges of an age of smaller, more localized militant groups with more anonymized leadership structures designed to avoid targeting. 
---