Prevent and Countering Violent Extremism: UK and US Perspectives
Wed, 8 March, 2023
10:00am - 11:30am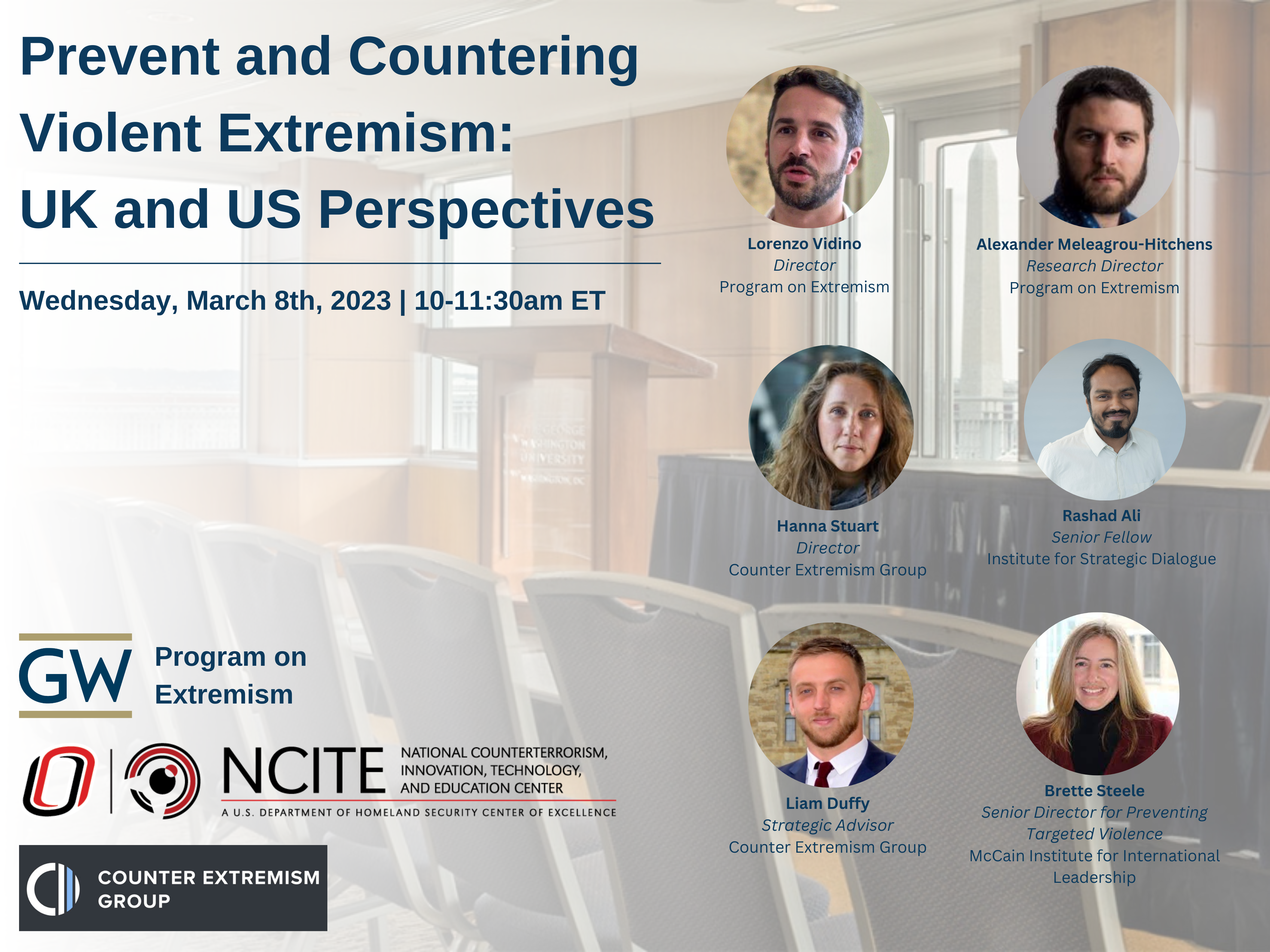 ---
Summary
The recent official Independent Review of the United Kingdom's (UK) terrorism strategy, 'Prevent', raised several key questions about how democracies can develop effective policies to dissuade and support those on the path to extremism. Among these are what forms of extremism must receive the most attention, how programs must be targeted, and with whom governments should partner. On March 8, 2023, The Program on Extremism at The George Washington University, in partnership with the UK's Counter Extremism Group and the National Counterterrorism Innovation, Technology, and Education (NCITE) Center of Excellence, hosted a virtual event to discuss the Prevent Review and what it means for countering violent extremism in America.

The panel was moderated by Program on Extremism Director Lorenzo Vidino, and featured insights from:

Alexander Melagrou-Hitchens opened the panel by providing a brief summary of the evolution of the Prevent strategy. In its early phases, Prevent encouraged integration and community cohesion by funding grassroots and local organizations as a way to prevent radicalization. However, the strategy was initially criticized for focusing almost exclusively on Islamism and jihadism, funding so-called "moderate" Islamists, and creating a securitized relationship between the government and British Muslims. Successive iterations of Prevent shifted to address ideological considerations, and expanded the scope of counter extremism practice and policies with the advent of the Syria-bound foreign fighter phenomenon and the introduction of P/CVE as a safeguarding principle. Crucially, this shift placed a legal duty on public institutions to have systems in place to allow staff to refer individuals on a pathway to radicalization, and left more of the referral onus on frontline workers. Meleagrou-Hitchens concluded his remarks by noting that Prevent is both unprecedented and progressive in its approach today, despite efforts to skew perceptions of it among the public. 

Hannah Stuart followed by offering her reflections on the recent Independent Review of the Prevent strategy. She agreed that the strategy has suffered from mission creep and lost sight of the initial focus and goal: preventing individuals from committing terrorist acts. Similarly, a growing emphasis on addressing critical vulnerabilities within the Prevent framework has hampered efforts to help practitioners better understand the underlying ideologies driving the radicalization process. Stuart also echoed the Review's criticism of the double standard in Prevent programming and referrals, which has encouraged an expansive approach to defining and preventing far-right cases, but a more narrowed approach to Islamist cases. She advocated for a consistent and proportionate approach across the ideological spectrum, one that reflects the realities of the current threat environment. Stuart agreed with Meleagrou-Hitchens' comments on Prevent's public image suffering from a history of funding Islamist organizations and general misinformation campaigns by dishonest actors. Ultimately, she concluded that a culture shift is needed to address the concerns highlighted by the Independent Review in spirit, and not just a simple adoption of the report's recommendations in writing.

Rashad Ali further contextualized Prevent by explaining its restrictive original focus on al-Qaeda-linked terrorism and the initial divisions of roles and responsibilities, both of which have changed through more recent policy iterations. He noted that the expansion in Prevent's scope–and ultimately its mission creep–was facilitated by ambiguous definitions of what extremism is and which actors were involved in related decision making. In part, this ambiguity helps explain the disparity in total numbers of referrals, and the subsequent focus on, far-right vs. Islamist individuals today, which was also noted in the Independent Review. Ali contended that far-right extremism's role as both a sociopolitical problem and a security concern has ballooned the number of cases being reported as well as perceptions of what is in Prevent's purview to address. He argued that more "off-ramps" are needed in the referral process to alleviate some of the erroneous engagements of the past and the resulting skew in threat perceptions. Ali concluded that in order to further protect the integrity of Prevent, there needs to be a better balance between providing public transparency and giving practitioners space to conduct interventions quietly and effectively.  

Liam Duffy argued that one of the main flaws of Prevent is in the perception that radicalization predominantly affects vulnerable, misled, and mentally unstable individuals. This assumption in turn led Prevent programming to shift towards a safeguarding principle, which was essential to corral policy support and funding but disconnected from the realities of the threat environment. Principally, this transition has created what Duffy called a feedback loop, wherein referrals of at-risk individuals are coming predominantly from sectors where Prevent programming is being funded and prioritized: schools, mental health services, and other adjacent services. However, and as Duffy demonstrated with the example of the Manchester Arena Inquiry, this core assumption fails to account for otherwise "stable" individuals with morally upright convictions who mobilize to violence. In short, current perceptions of the threat–built on data of total referrals–are more a reflection of resource allocation than they are the actual threat environment, which has driven the disproportionate response to far-right extremism in Prevent programming today. Duffy concluded that Prevent needs to return to the fundamentals, and prioritize interventions for individuals who pose an actual security risk. 

Brette Steele provided final remarks by offering the US perspective on prevention, which is focused on adapting a multitude of existing local programs to meet terrorism and targeted violence prevention needs. One of the key points of divergence between the US and UK approaches, Steele noted, is that the US does not operate as heavily through the top-down approach of the UK, but rather through an abundance of local jurisdictions that individually decide what, if any, prevention programs to implement. These differing approaches are significantly informed by the distinction between clearly-defined safeguarding duties in the UK, and more obscure authorizations in the US. The US also grapples with a different threat environment than the UK, with most threats to the former stemming from right-wing extremists and individuals who adopt mixed or unclear ideologies. Another point of difference lies in how individual protections in the US Constitution have forced prevention efforts to focus more squarely on the nexus to violence and not on constitutionally protected activities. However, where US and UK prevention efforts align, Steele observed, is in widespread public misunderstanding of what prevention programs seek to do. Those reflections were shared by other panelists as well as the Independent Review of the Prevent strategy. In closing, Steele emphasized the importance of taking a biopsychosocial approach to incorporating better understandings of underlying belief systems, but focusing on addressing violent behaviors and committing to models of behavioral change. 
---