Voices of Resilience: A Holocaust Survivor's Story and Call to Action
Fri, 12 May, 2023
10:00am - 11:00am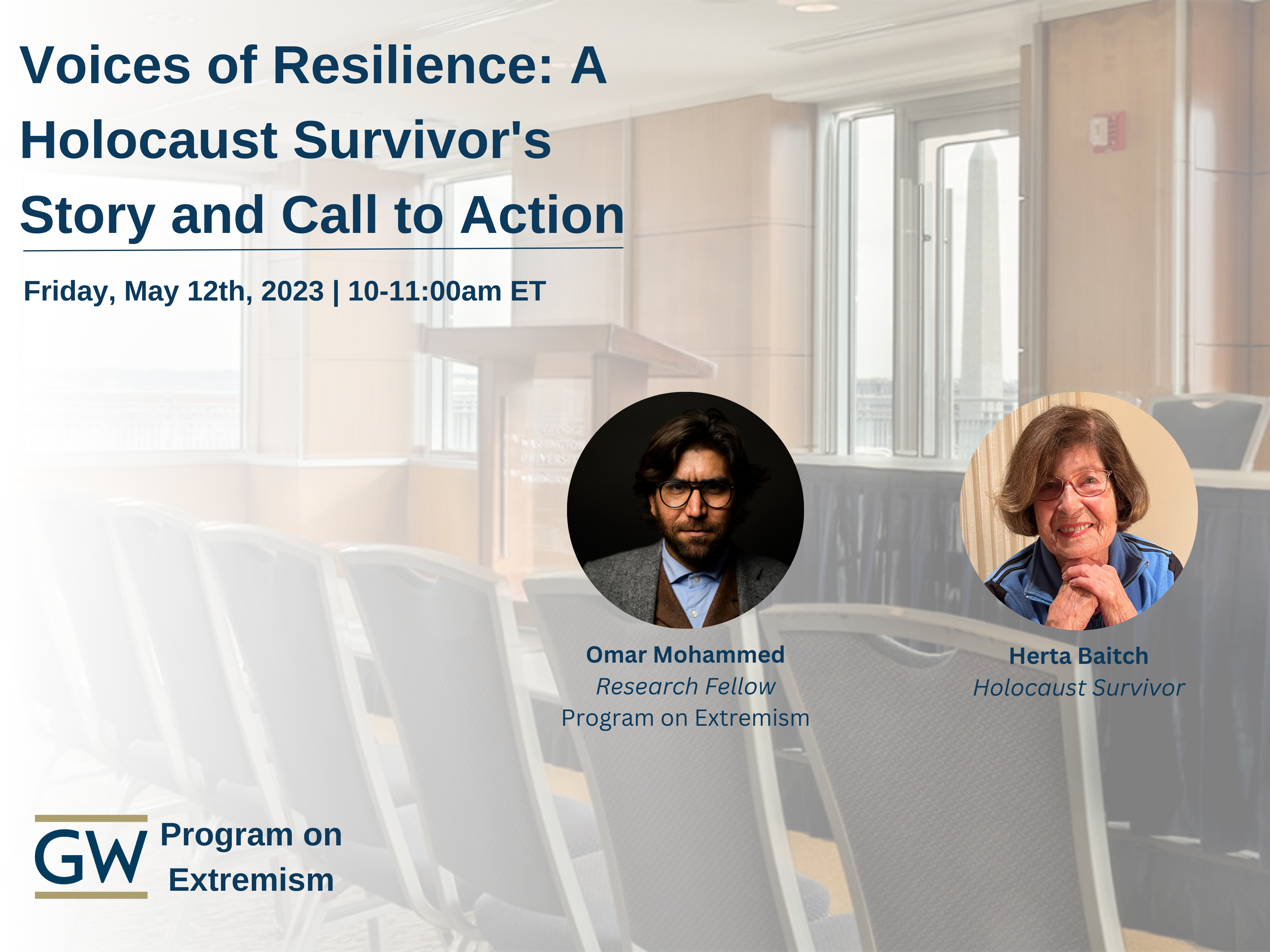 ---
Summary
On May 12, 2023, the Program on Extremism hosted a virtual conversation with Ms. Herta Griffel Baitch, a Holocaust survivor, and Mr. Omar Mohammed, a Research Fellow at the Program on Extremism, historian, founder of Mosul Eye, and director of "Reviving the Jewish Memory of Mosul." The event was a rare opportunity to learn from a survivor of the Holocaust and to gain a deeper understanding of the ongoing threat of antisemitism. Together, Ms. Baitch and Mr. Mohammed explored the lessons of the Holocaust and how we can work towards a more just and tolerant world.
Herta Baitch née Griffel was born in Vienna, Austria 1933, the year Adolf Hitler came to power. She was born to Jewish parents, Beila and Wolf Griffel, who came to Vienna from southern Poland. On November 9, 1938, Kristallnacht, the Nazis destroyed and ransacked numerous Jewish businesses, including the Griffels' grocery. Her father was taken to a Nazi work camp where he ultimately died in 1939. In 1940, Ms. Baitch's mother made the difficult decision to send her child away. The Kindertransport had just nine U.S. visas and Ms. Baitch was one of the nine children from Vienna's Jewish community selected to move to the U.S. In 2003, Ms. Baitch finally learned her mother's fate. Beila was deported to Minsk in 1940 with thousands of Viennese Jews and died at Maly Trostinec concentration camp. Herta arrived in the U.S. on the first night of Channuka 1940. Arriving in the U.S. at just seven years old, Ms. Baitch is one of the youngest survivors of the Holocaust.
Ms. Baitch said she feels responsible to share her story in honor of the six million Jewish people – including approximately one million children – who were murdered in the Holocaust. She said she has dealt with the burden of survivor's guilt as she built a family in the U.S. and had opportunities that her parents and other victims never did. Despite these wonderful opportunities, Ms. Baitch expressed her concern that the U.S. is growing increasingly divided as the hate and distrust of people of other races, nationalities, and religions continue to persist. The Holocaust epitomized mankind's hatred and destructive capability. To secure the future of her children and grandchildren, Ms. Baitch chooses to share her story to educate others about the Holocaust in the hope that it will inspire others to become more accepting of those who come from different backgrounds.
Ms. Baitch outlined her concerns about the lack of education in U.S. schools on the Holocaust, and how she seeks to rectify this by sharing her story with a wide variety of age groups. Ms. Baitch emphasized that people must speak out against those who perpetuate falsehoods. She pointed to the early signs in the 1930s that the Nazis were targeting the Jewish community causing many within that community to proactively flee, but by 1940, many countries were resistant to open their doors to Jewish refugees. Ms. Baitch hopes that leaders and the public will become aware of signs that indicate a population is being targeted and work to protect them before atrocities can occur. Similar indicators can be viewed today in the Chinese internment of Uyghurs and she stressed the time to act is now. With the advent of social media, news of these atrocities can be identified early and spark protests and proactive measures. However, at the same time, social media is also home to misinformation and hatred that can be used as a tool to incite violence and harassment against others. Ms. Baitch's advice to the next generation is to educate oneself on past atrocities, to speak out against all injustices, and to get involved with your community.
---