ISIS in America: From Retweets to Raqqa
Tue, 1 December, 2015
4:00pm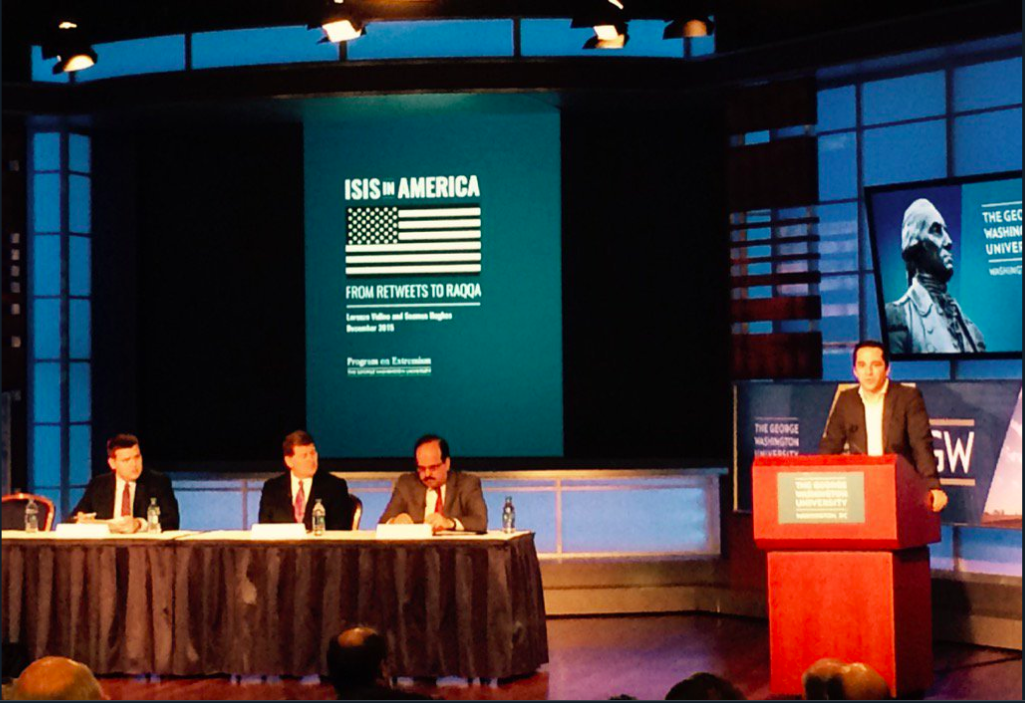 On December 1, 2015, the Program on Extremism at The George Washington University debuted a first-of-its-kind report on American ISIS supporters titled ISIS in America: From Retweets to Raqqa.
To announce the release of the report, the Program hosted Michael Downing, Deputy Chief of the Counter-Terrorism and Special Operations Bureau at the Los Angeles Police Department, and Ambassador Alberto Fernandez, former Coordinator of the Center for Strategic Counterterrorism Communications (CSCC), for a discussion of the contours of the networks of Islamic State (ISIS) support in America, the nature of the ISIS threat in the U.S., and the measures law enforcement officials are taking to address the threat. Lorenzo Vidino and Seamus Hughes—the Director and Deputy Director of the Program, respectively—introduced the major findings of the report, highlighting that there is no profile of an American ISIS supporter. Additionally, Vidino and Hughes underscored that while ISIS is adept at using social media platforms to recruit new members and spread propaganda, personal, real world interactions remain a key factor in the radicalization and mobilization of American ISIS supporters.
Both Deputy Chief Downing and Ambassador Fernandez underscored that the speed and scale of the American mobilization to ISIS to unprecedented, indicated by the 56 ISIS supporters arrested in the U.S. this year alone, the highest number of terrorism-related arrests since 9/11. In light of the evolving nature of the threat, Deputy Chief Downing discussed a number of the measures law enforcement officials have taken to disrupt American ISIS supporters' domestic plots and attempts to travel abroad, while highlighting the need for both additional resources and the implementation of dynamic countering violent extremism (CVE) programs to more effectively counter the threat. Speaking from his experience at CSCC, Ambassador Fernandez stressed that because each ISIS supporters' radicalization is trajectory is unique, there is no single counter narrative that can act as an effective off ramp. Instead, those engaged in countering ISIS propaganda should focus on disrupting the online echo chamber of ISIS support by poking holes in the group's narrative.